Regular price
€272,95 EUR
Regular price
Sale price
€272,95 EUR
Unit price
per
Sale
Sold out
Art and function combined 
Our pieces are made of multiple layers of felt, which create a tactile and sculptural look. It possess brilliant sound absorbing properties, and will improve the acoustics in whatever space you have. We use acoustic felt which is mainly made out of recycled PET ocean plastic.
One piece is 60x60 cm but you can add multiple components together to create a larger piece as seen in the photos.  
Price per unit will be reduced when buying more pieces.
Processing time: 3-4 weeks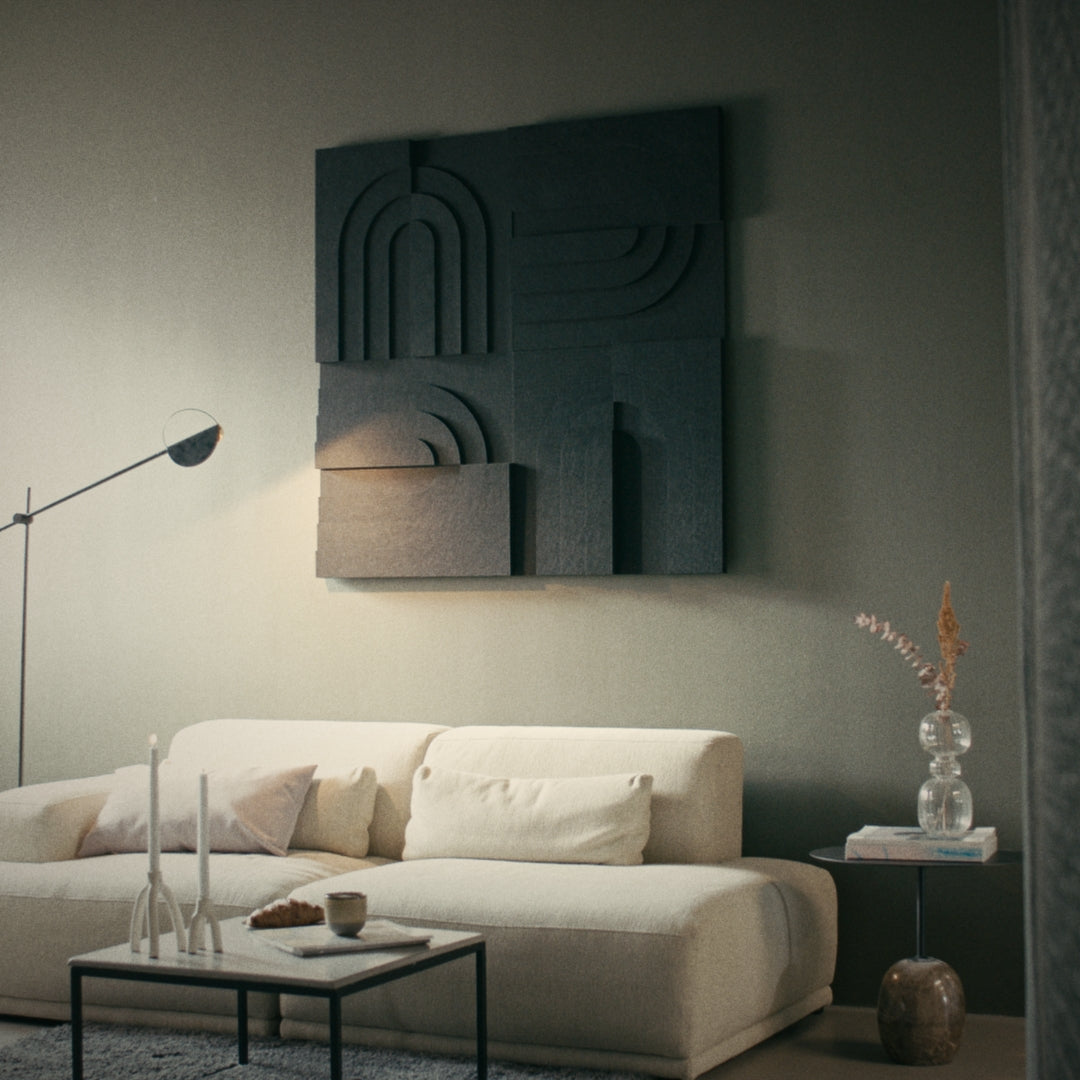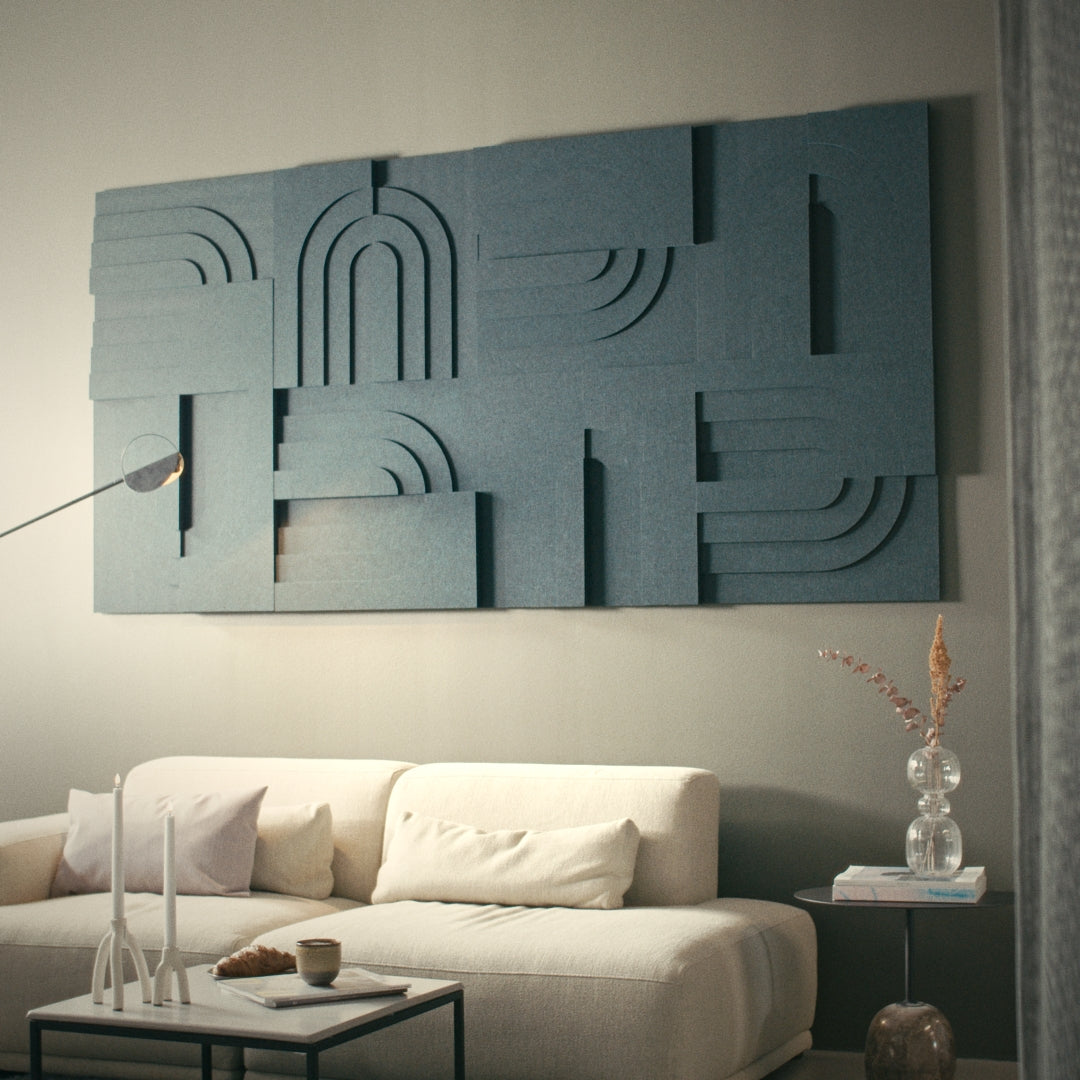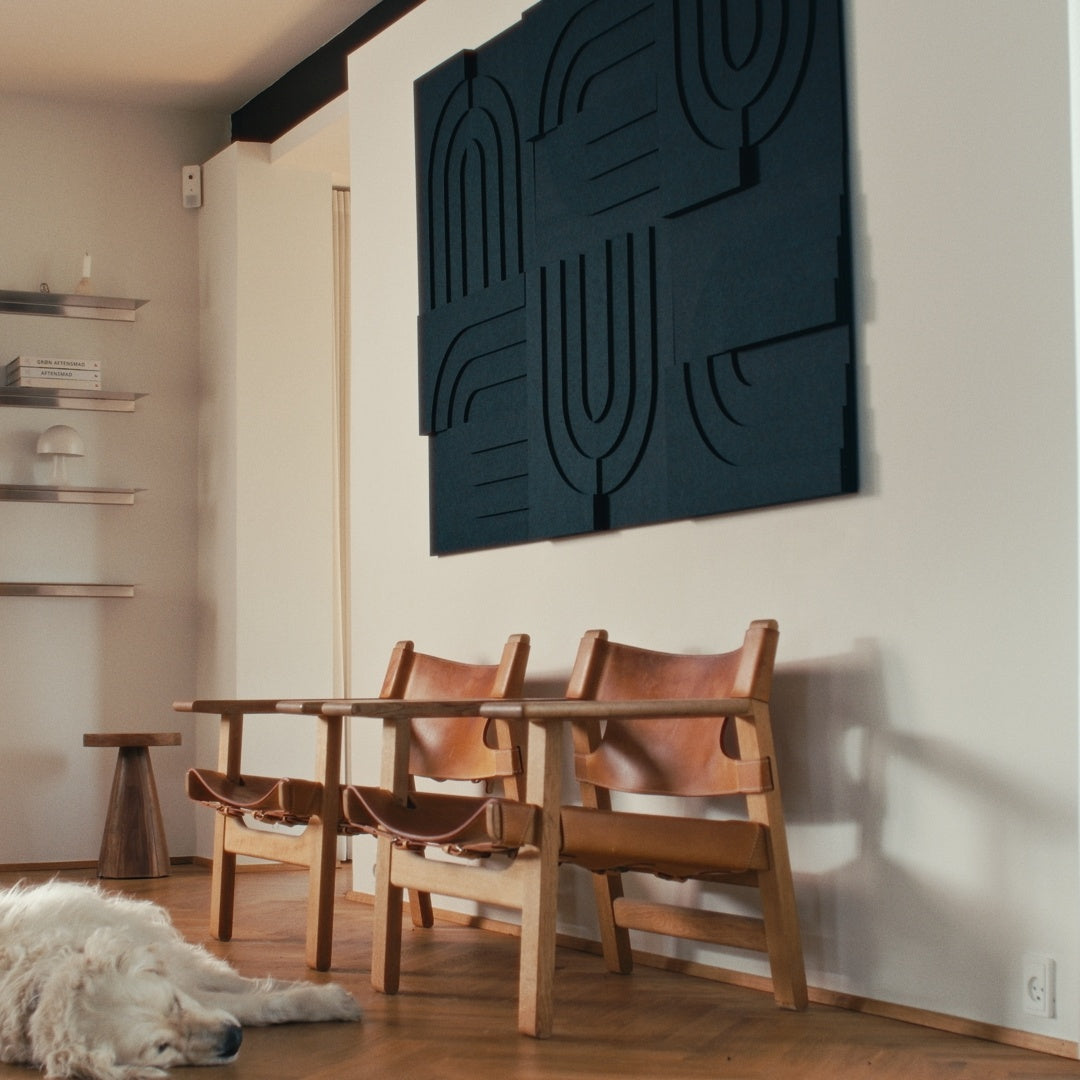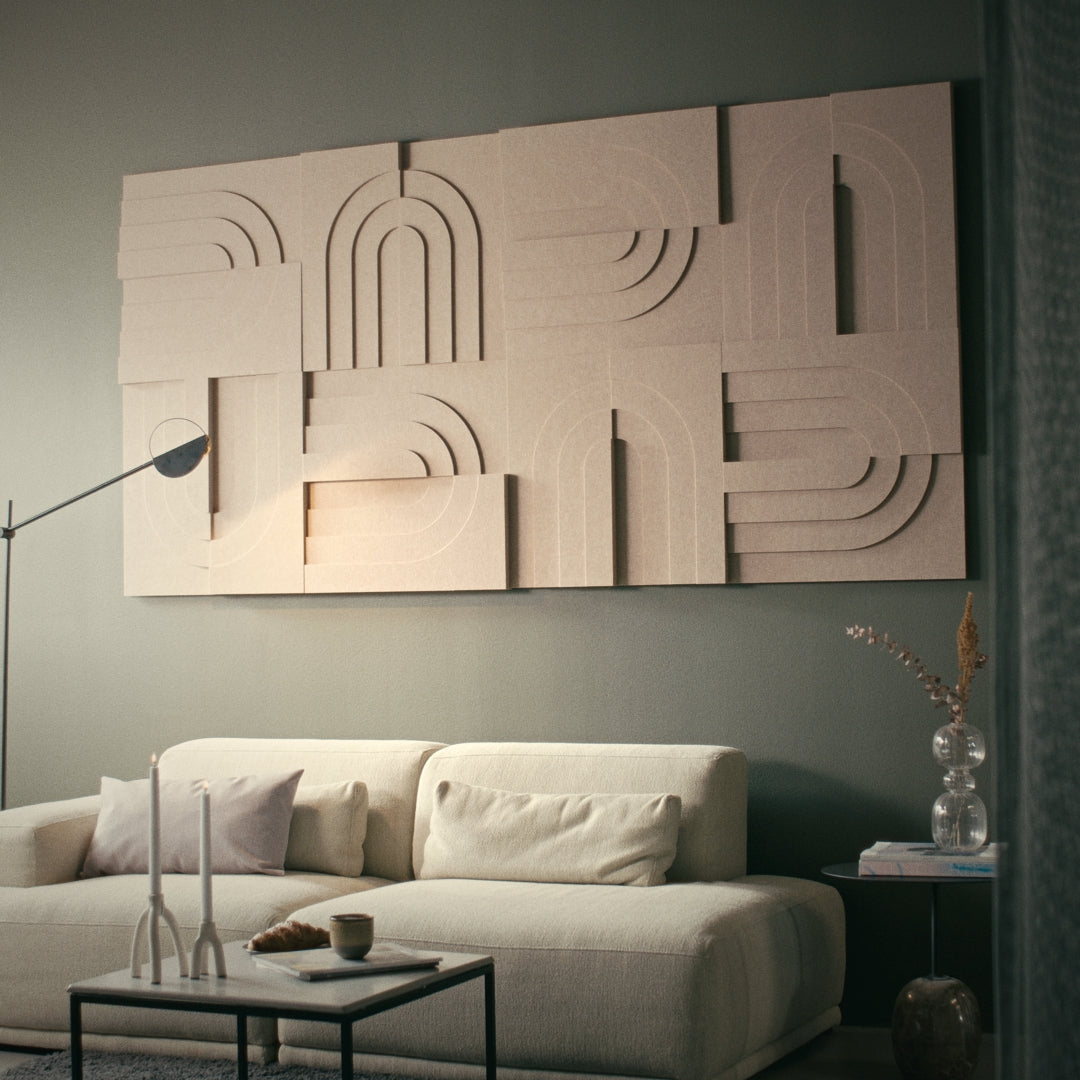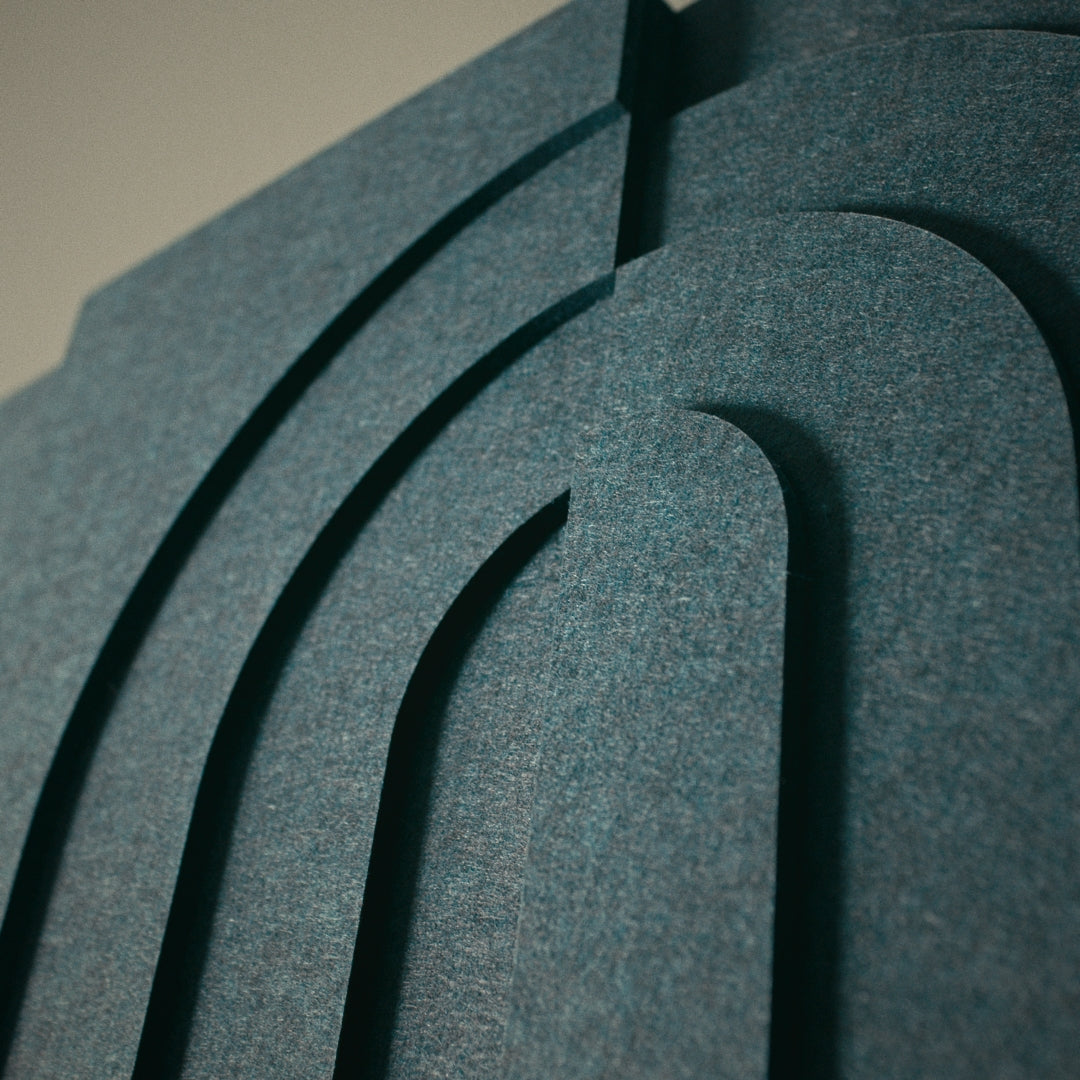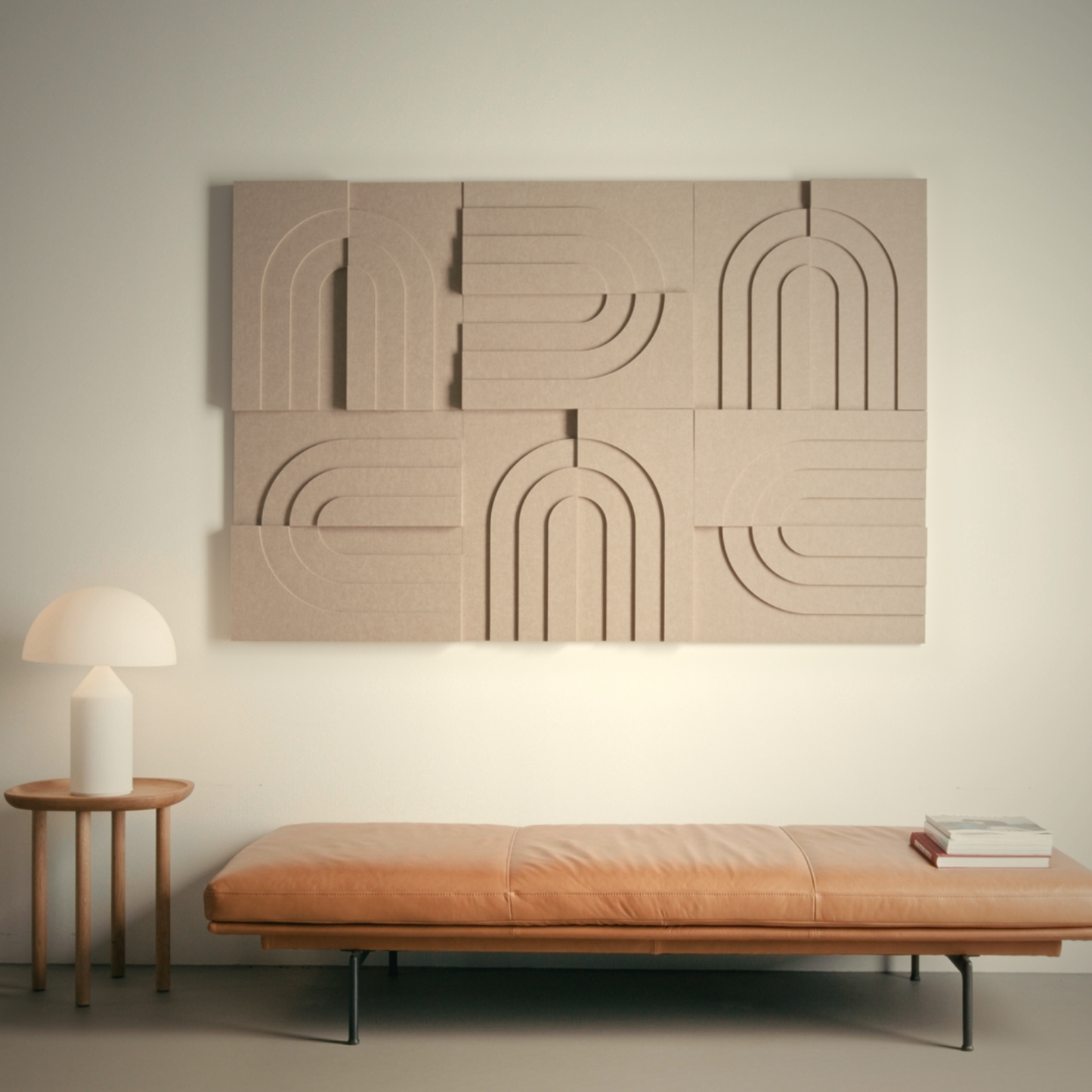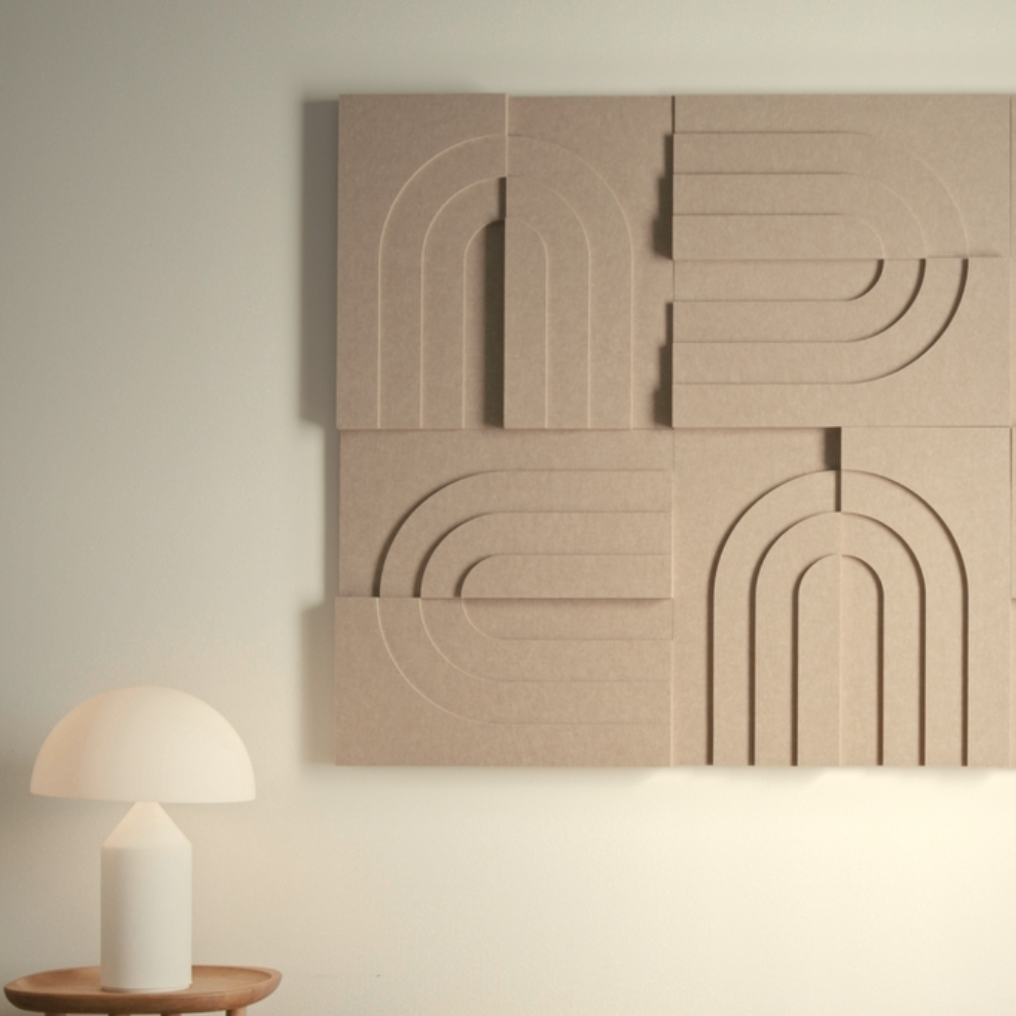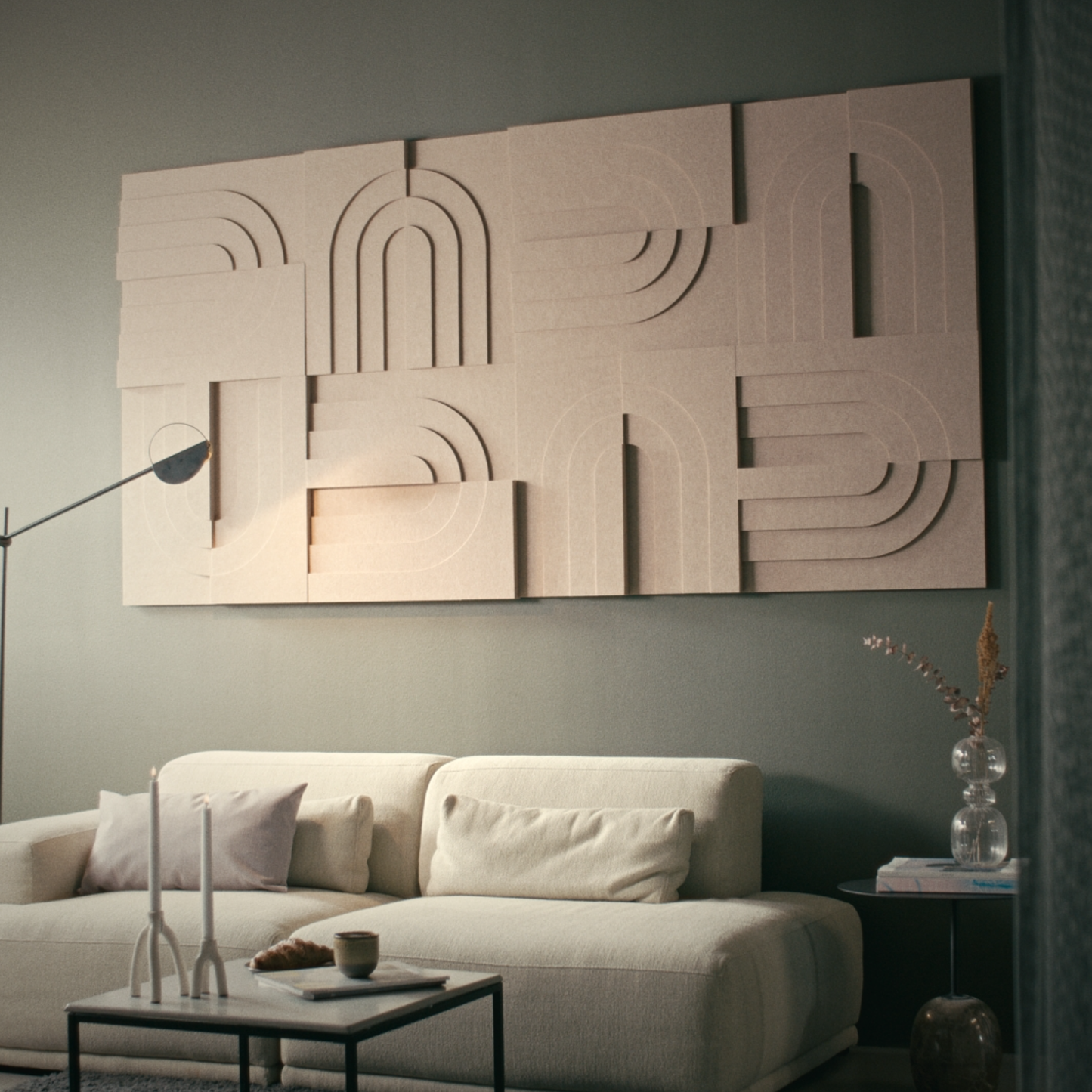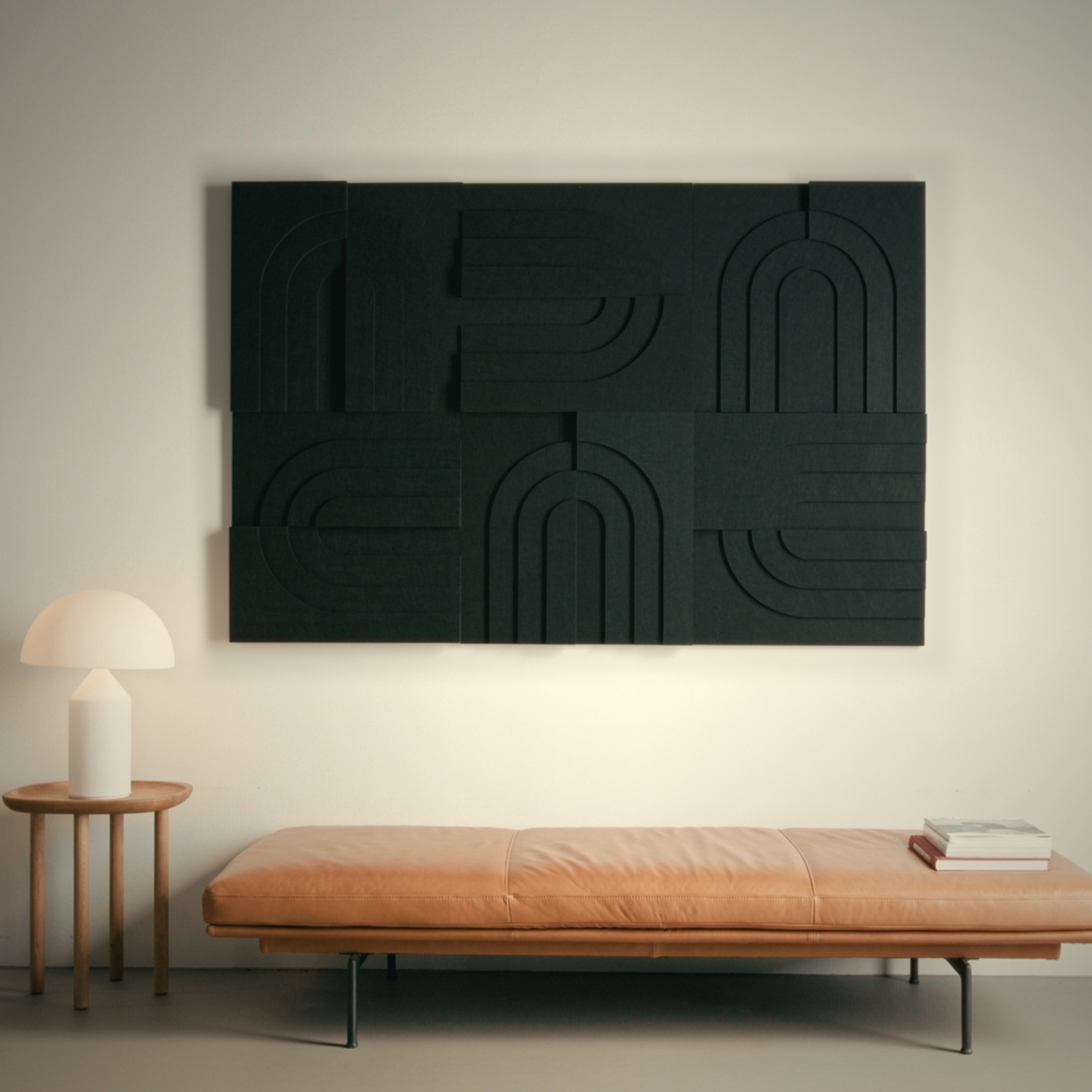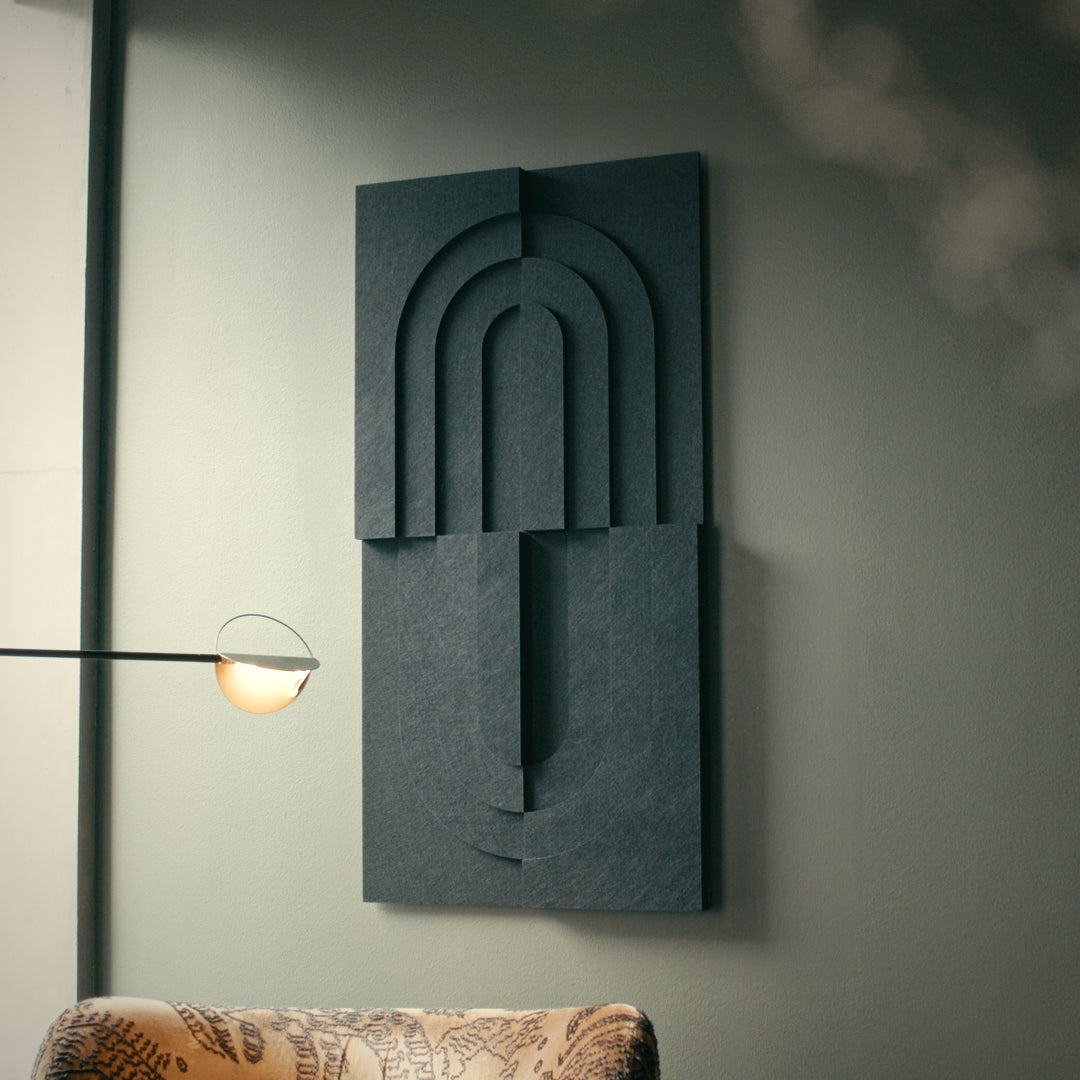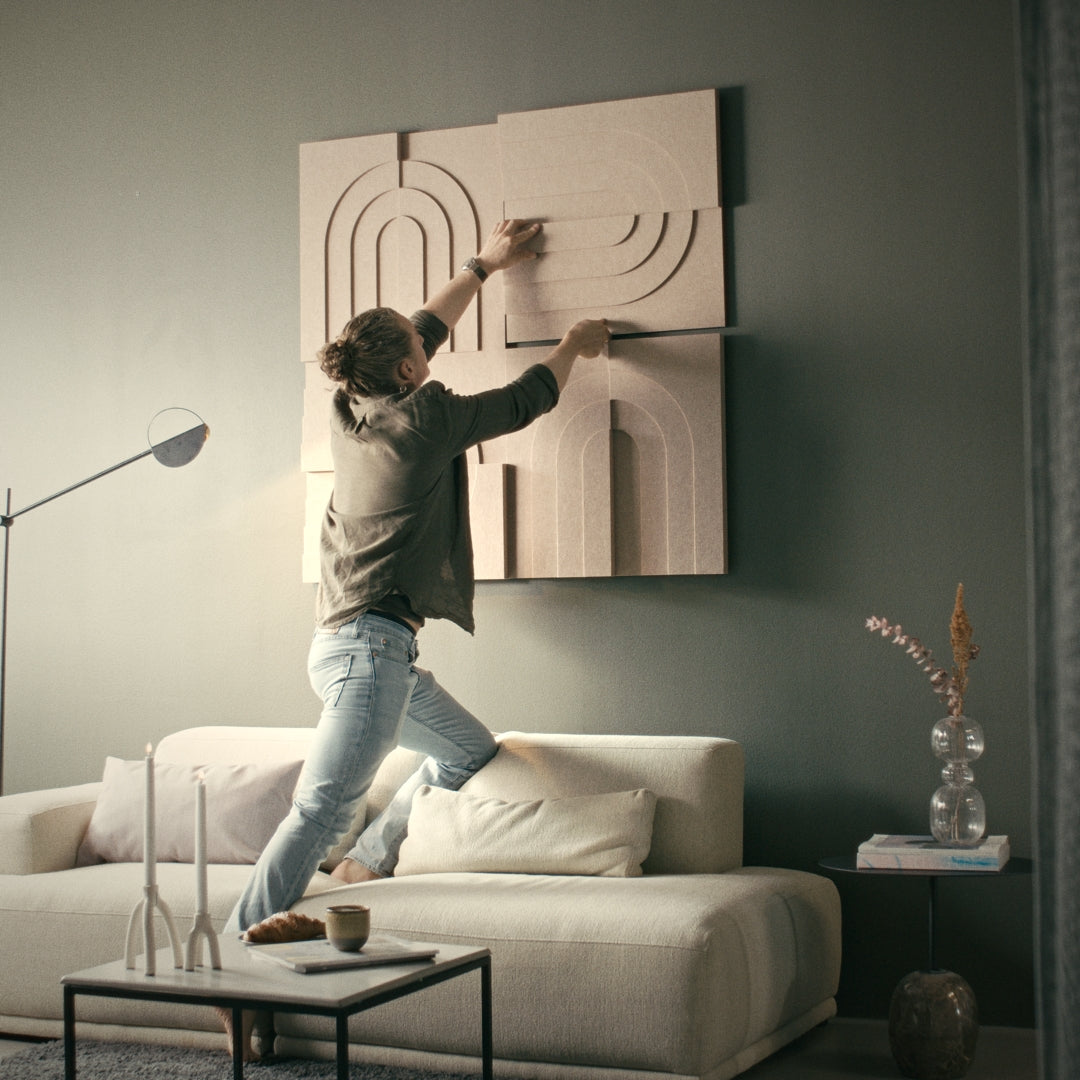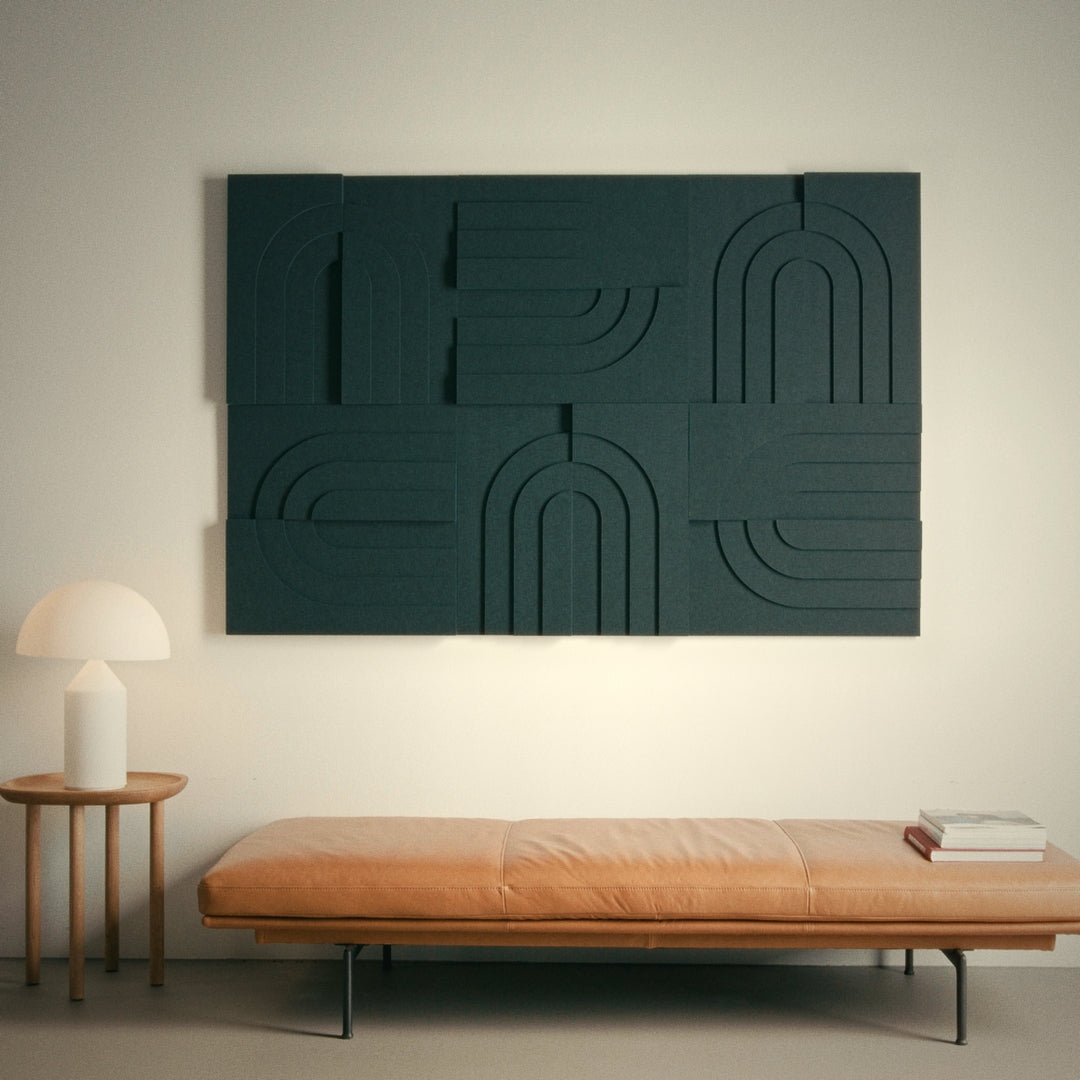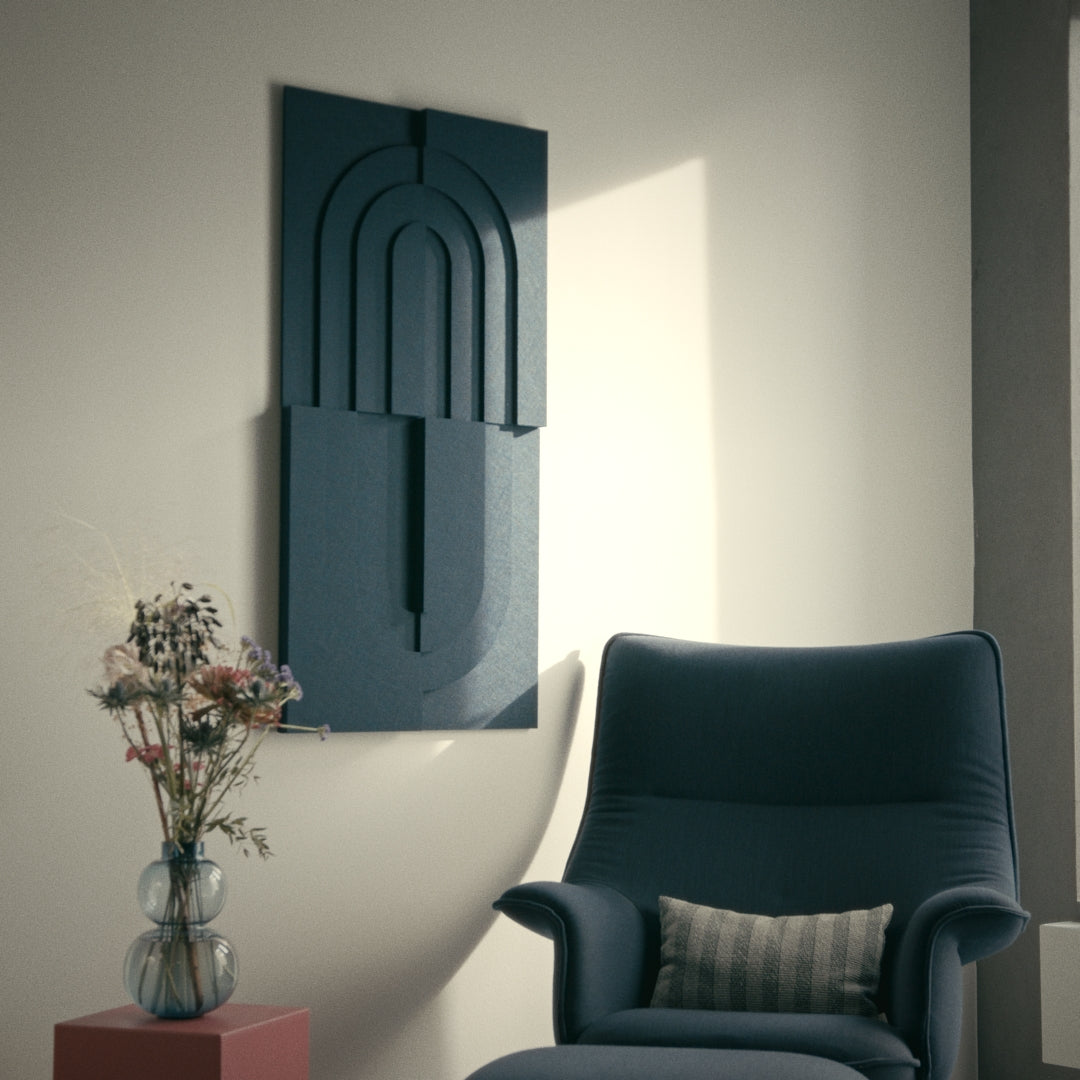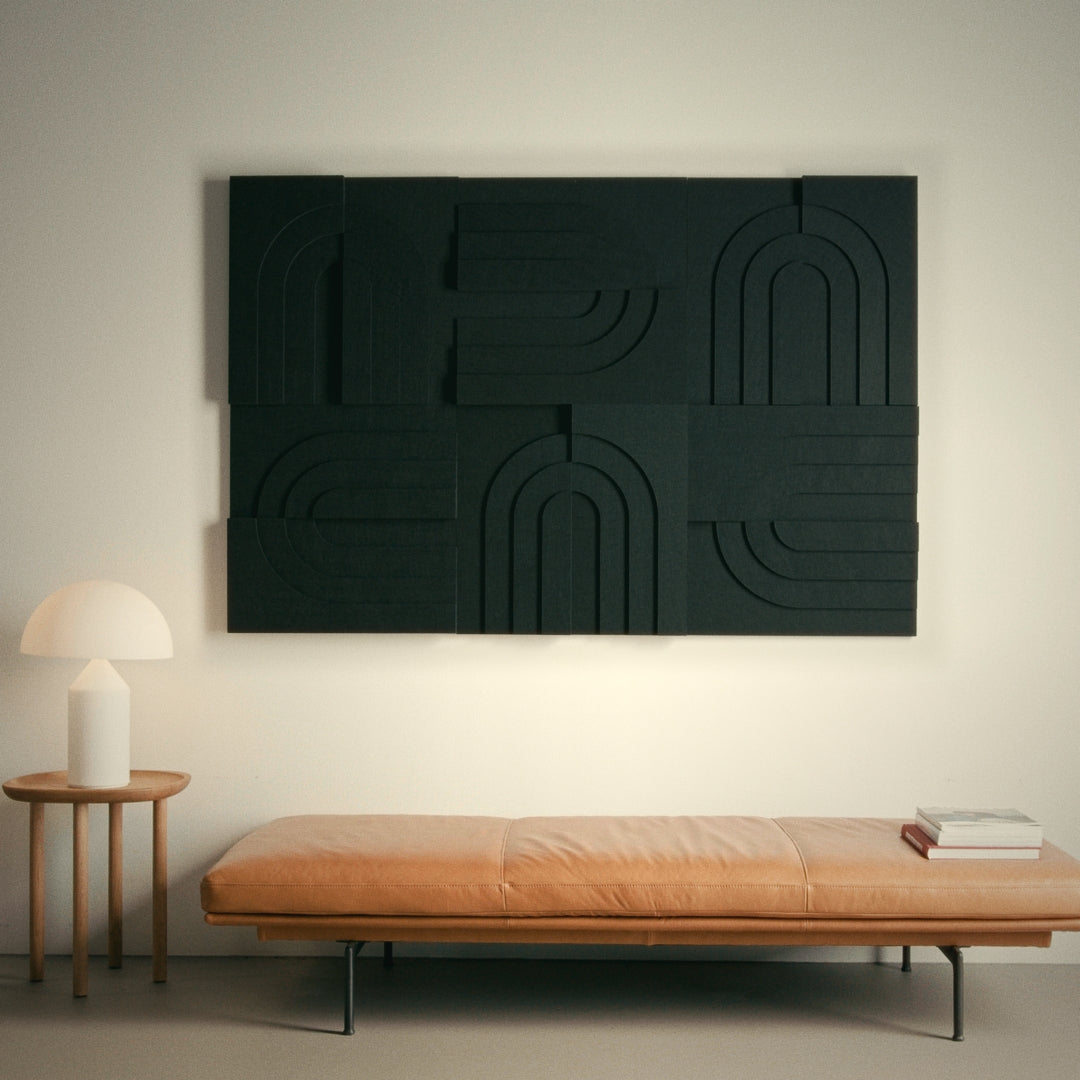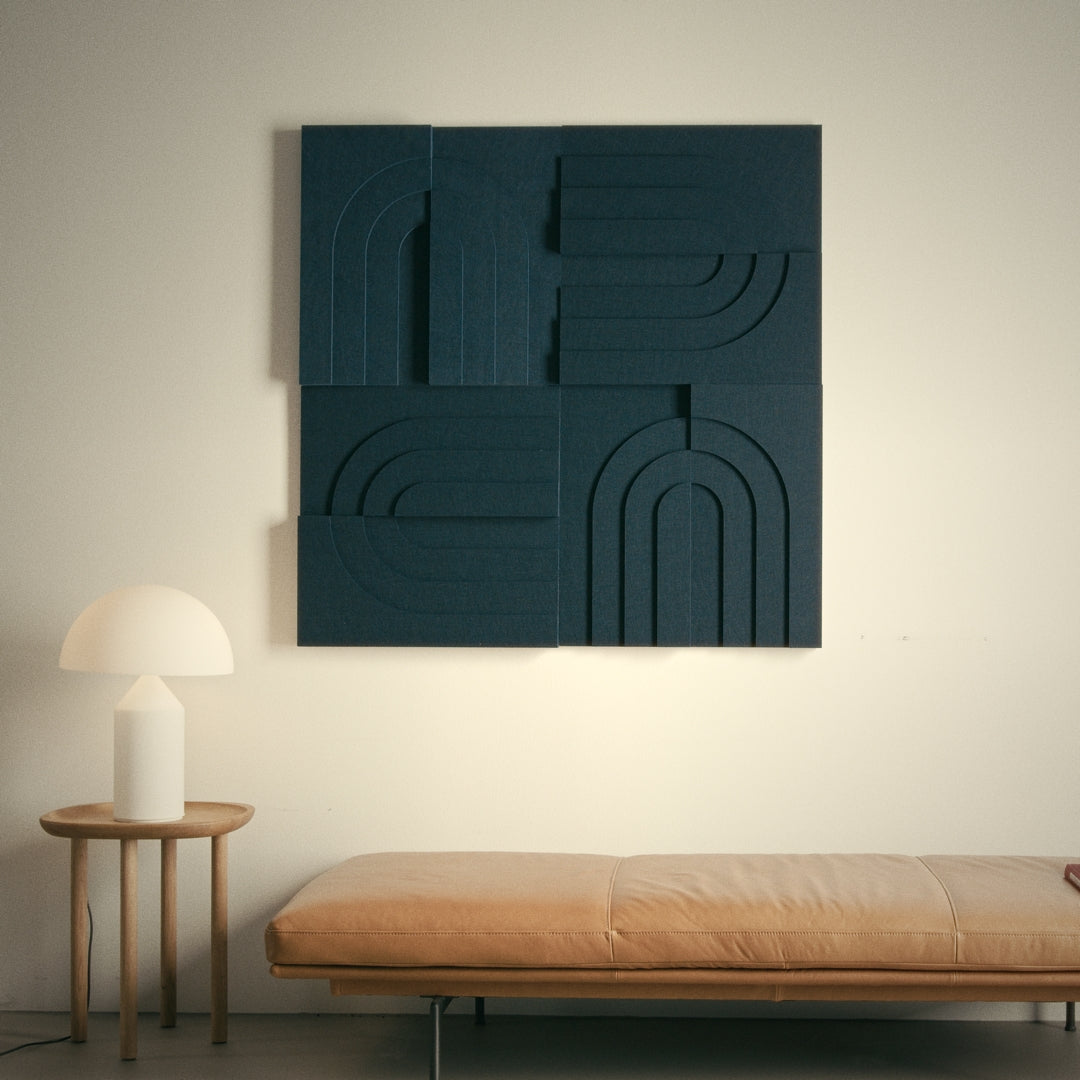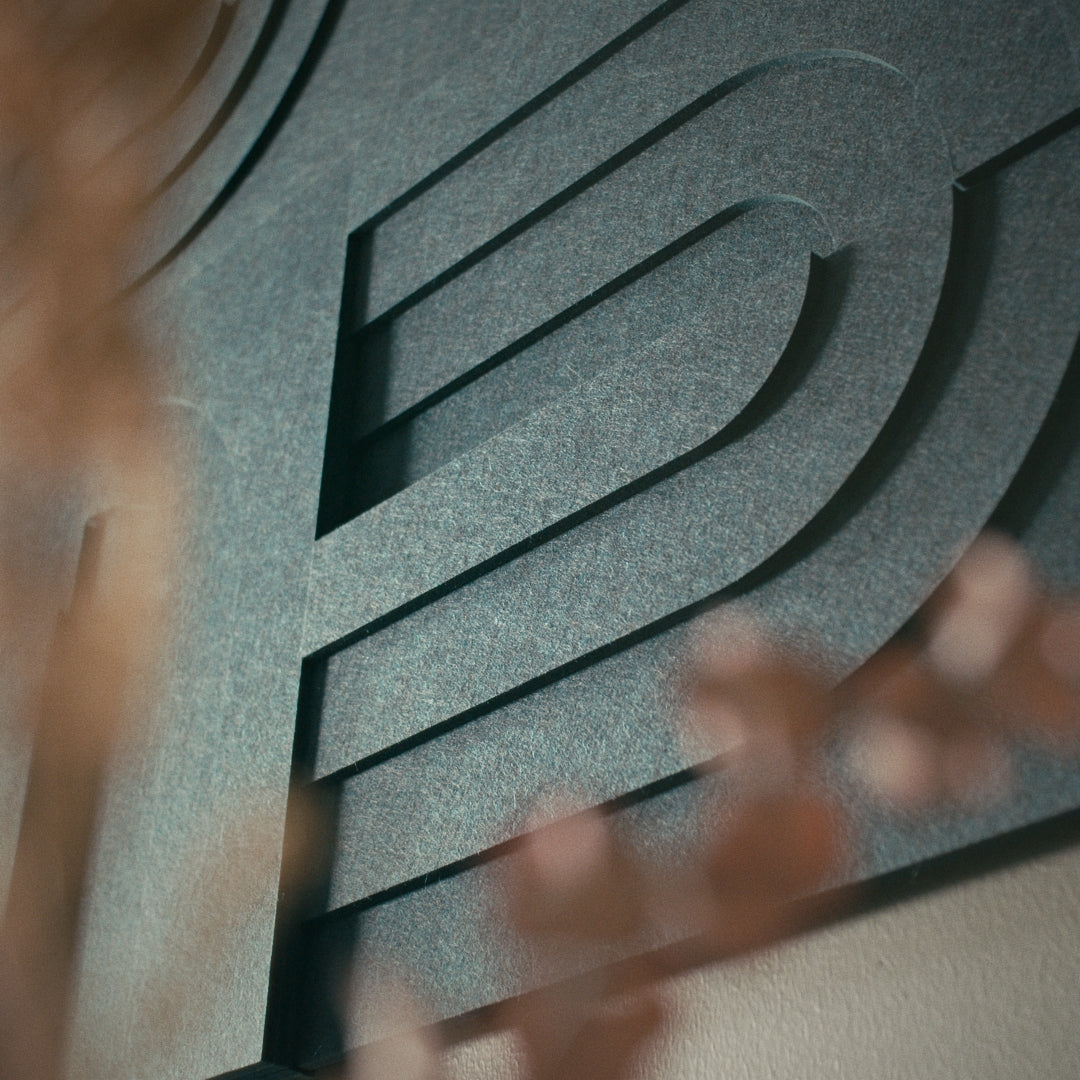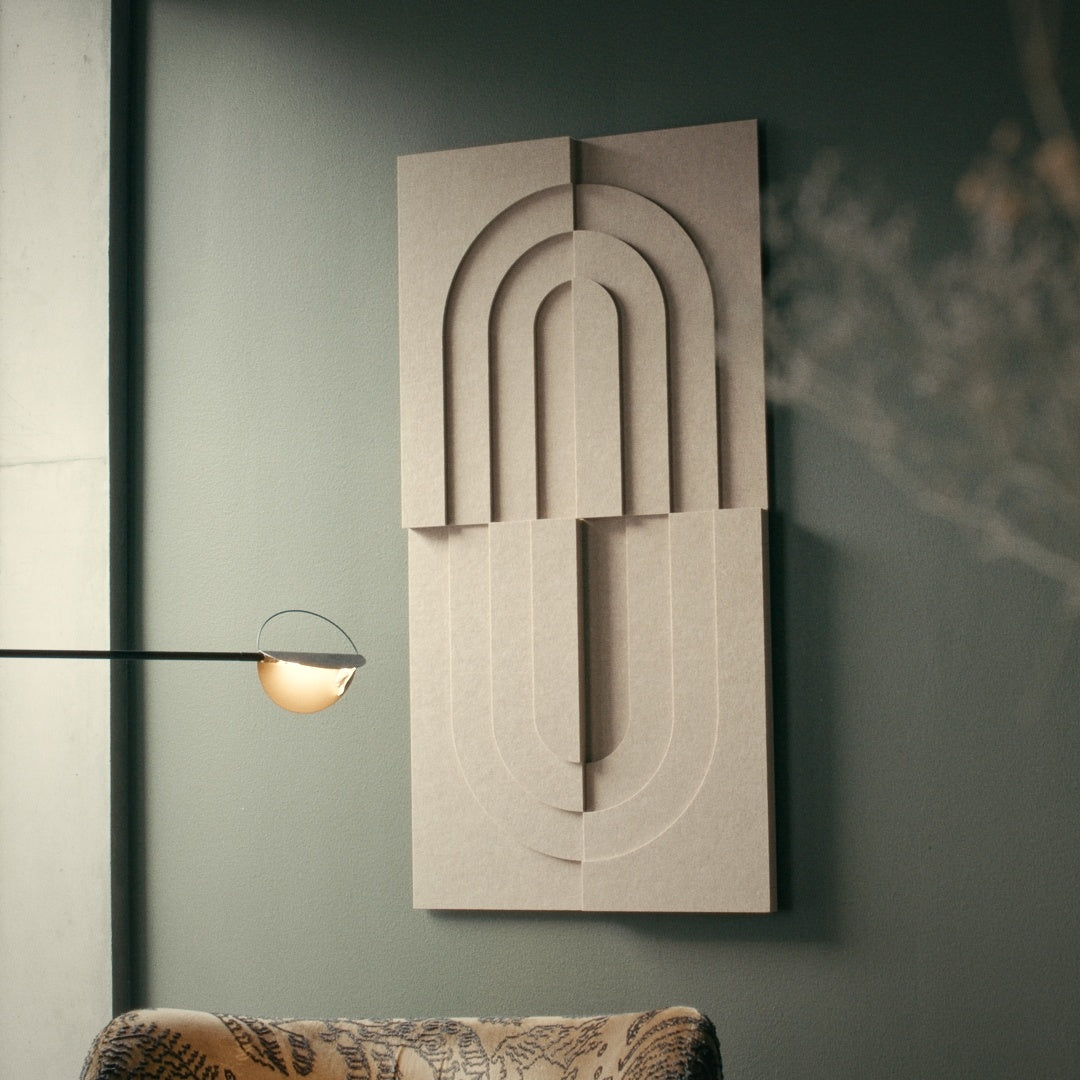 We believe in a future with less waste and better acoustics. People deserve a better indoor environment which increases well-being. Our approach is clear: less waste for the planet, more art to the people which results in a better quality of life for all.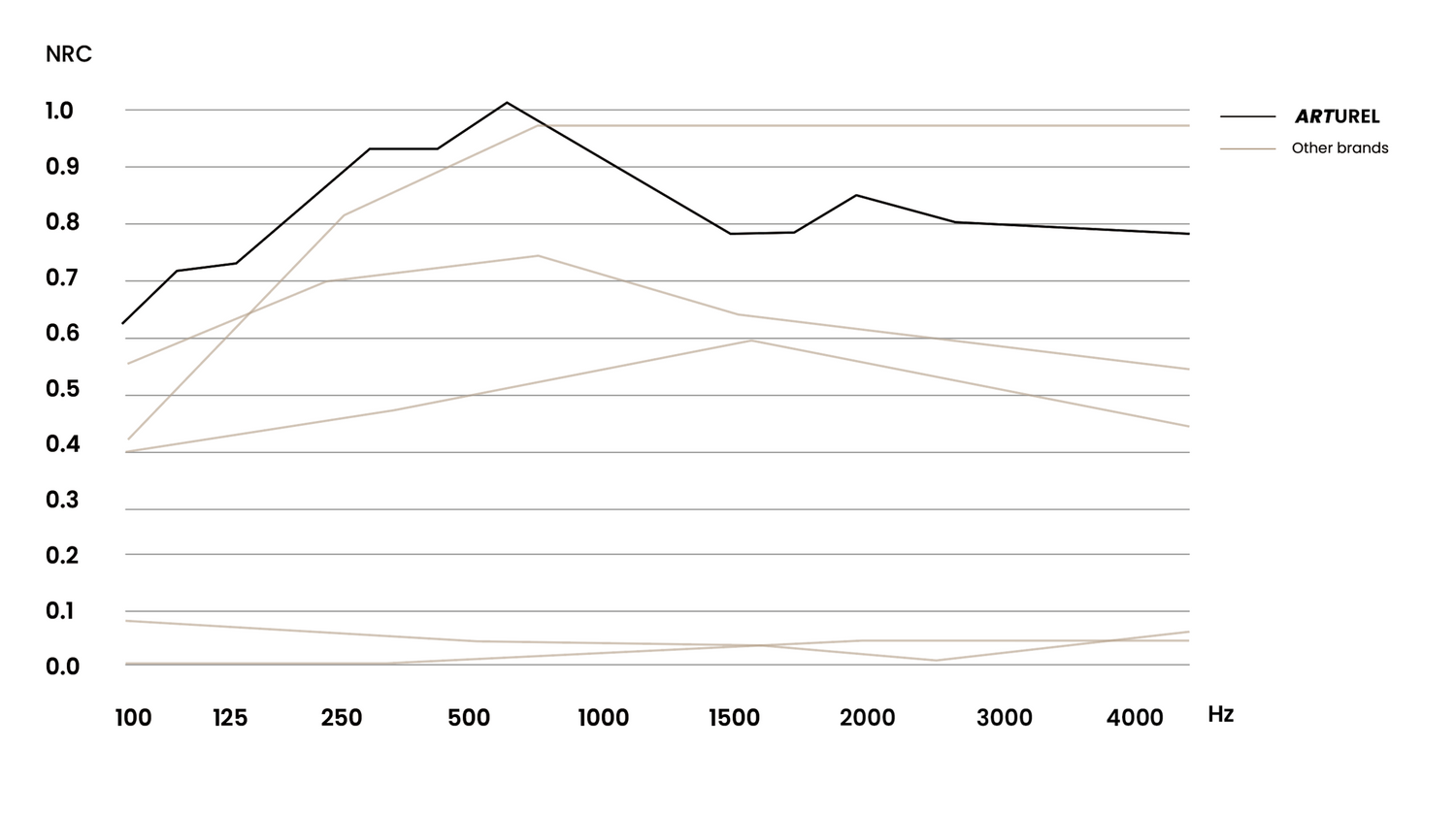 Better acoustic
Brilliant sound reduction effect (NRC)
Our acoustic material have been thoroughly tested by our trusted partners for a Noise Reduction Coefficient (NRC) of 0.85* on average. Noise Reduction Coefficient (NRC) score is a chart, commonly known throughout the world for noise frequency reduction which is measured in Hz.*Our artistic and designed acoustic panels have an average of 0,85 NRC (where 1.00 NRC is absolute) and is better than most of our competitors. The tests of our material is powered by our trusted partners. x Kvadrat artworks have an average of 0.35 NRC (where 1.00 NRC is total sound reduction).
The artwork have a thicknes of 30mm

Designed by Nital Patel (Multi award winning designer)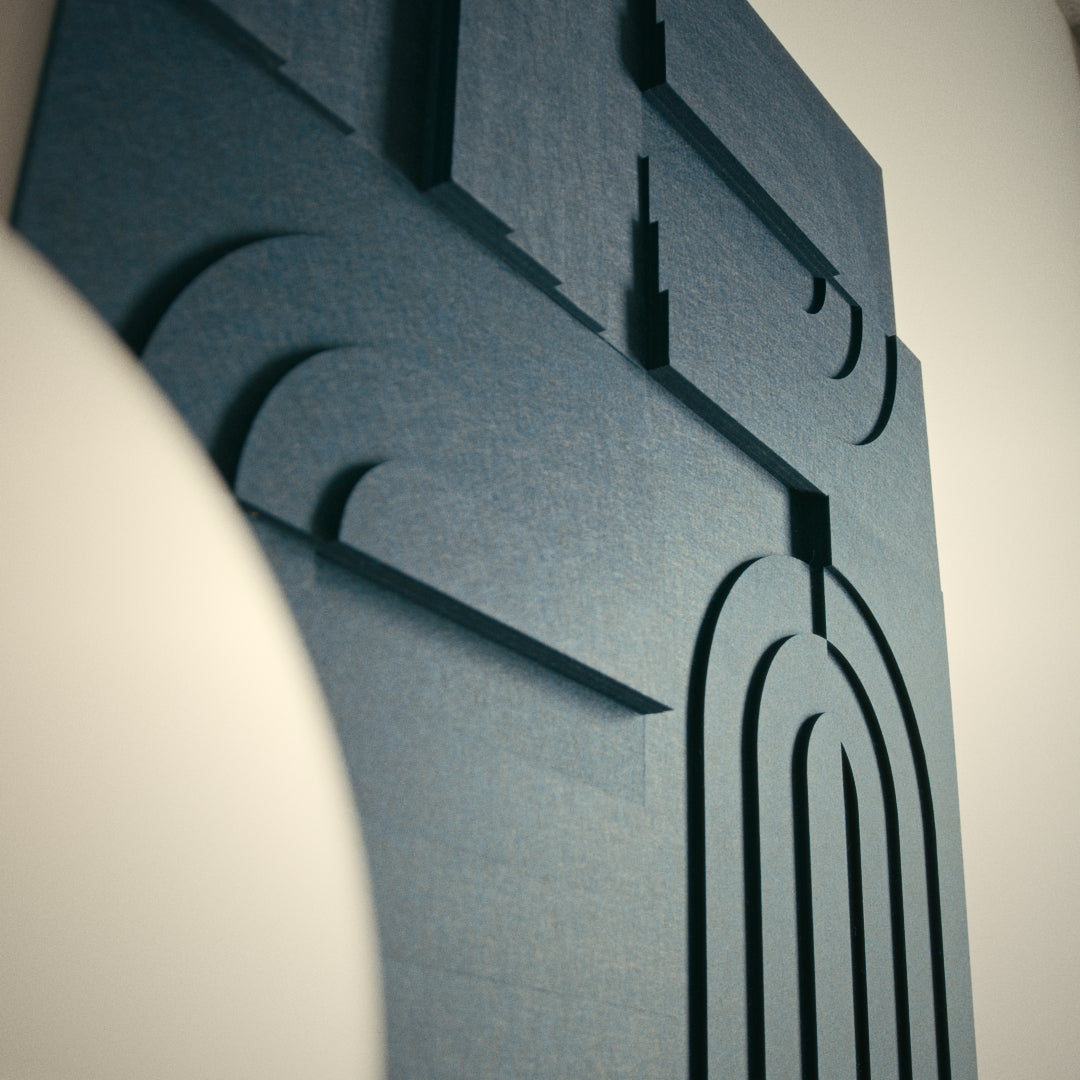 Made from upcycled ocean plastic
We know the importance of protecting the planet. That is why recycling is critical. We are working on a path to become 100% circular in our material flow - and push for a better future for future generations to come. All our acoustic panels is made out from recycled PET, where 90% is from ocean plastic. For each wave long 120x60cm approximately 29 PET water bottles are used.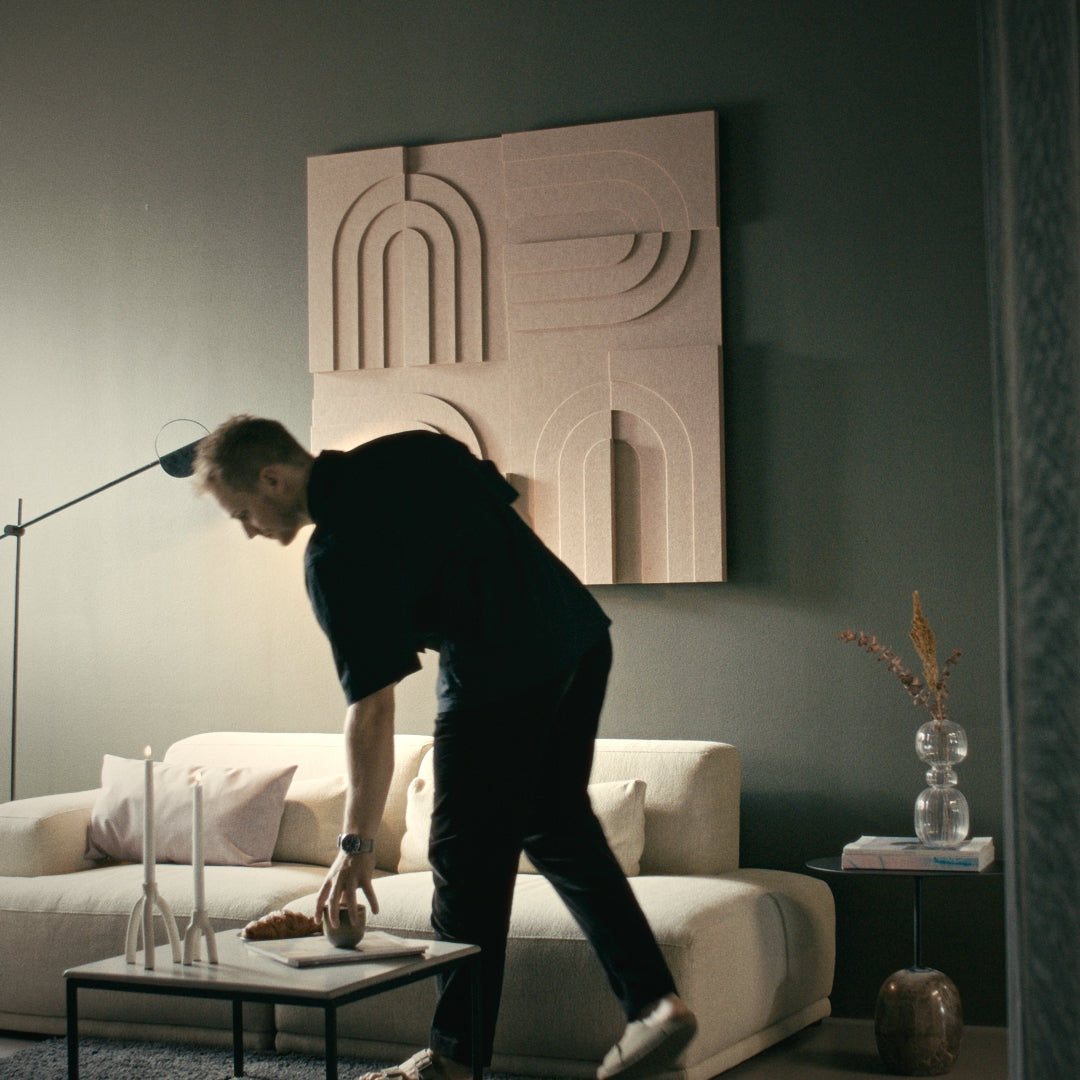 Art & function combined
Art has proven to make people happier. This is an art piece with multiple layers of recycled wool, which creates a tactile and sculptural look. Our acoustic panels possess sound-absorbing properties which helps to ensure a better indoor environment by improving the acoustics in any given space. Poor acoustics is the nr. 1 productivity killer for companies and that is why sound is a vital part of the well-being at office spaces. Good acoustics creates enhanced focus and productivity.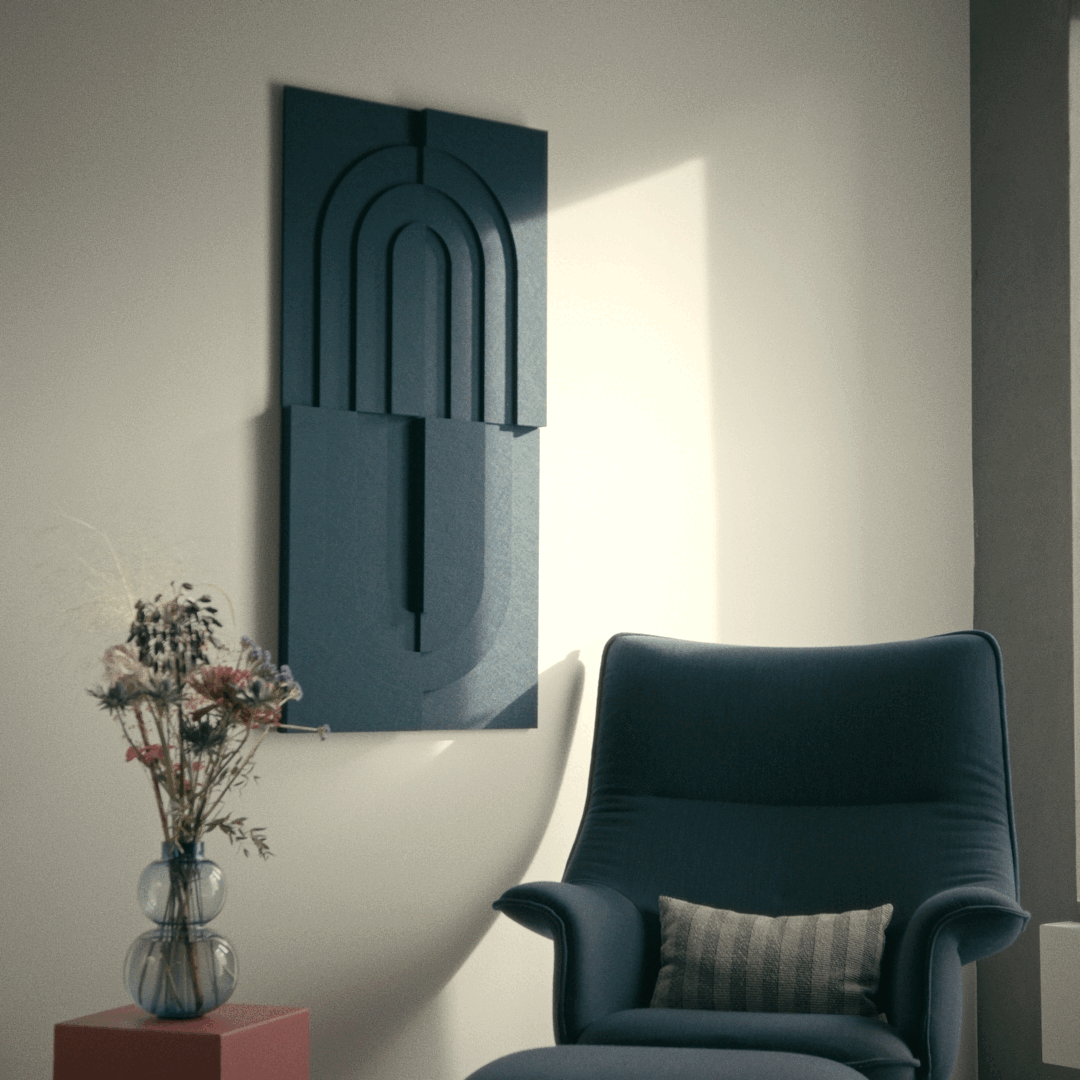 Setup in 2 min
Our installation system simplifies and accelerates the setup of our acoustic panels. The lightweight panels come with wall mount, ensuring easy handling and positioning. The system provides flexibility and stability and makes easy to move. Enjoy hassle-free installation and a professional result. It only requires 2 screws.

"Everyday objects should be beautiful as well as functional. This is why the Waves series gives even the humblest of spaces an elegance and quiet beauty. "

- Anders Cederholm, CEO Arturel
A set of 8 archs
Is perfect for enhancing the ambiance of your living room, dining room, or home office. By setting up 8 of our acoustic panels side by side, you can create a stunning art piece measuring 120x240 cm. Not only will it serve as an eye-catching focal point, but it will also significantly improve the room's acoustic quality. Enjoy the perfect blend of aesthetics and functionality with our panel arrangement, transforming your space into a visually appealing and acoustically optimized environment.
Enhanced focus and productivity
Poor acoustics is the number one productivity killer for companies and that is why sound is a vital part of well-being in work spaces. Good acoustics create enhanced focus and productivity - and it can be done sustainably for people and the planet.

Ideal for businesses - Contact Anders@arturel.com for assistance or a quote.
Choosing a selection results in a full page refresh.
Opens in a new window.